The Pepper Dem housemates of the Big Brother Naija are living up to the theme of the season as they keep bringing drama and controversies into the house. Has there ever been a Task without a fight? Nope! Caught in the crossfires this time are Venita and Khafi who got into a little shouting match.
Recall that Seyi had won the Head of House Challenge for the second week back to back and will now be referred to as the 'Tor Tiv' by the housemates. They will have to organise a coronation ceremony and grand reception for him and the Task would be delivered as a drama. The preparation for the Task began in earnest, but not without a few hiccups.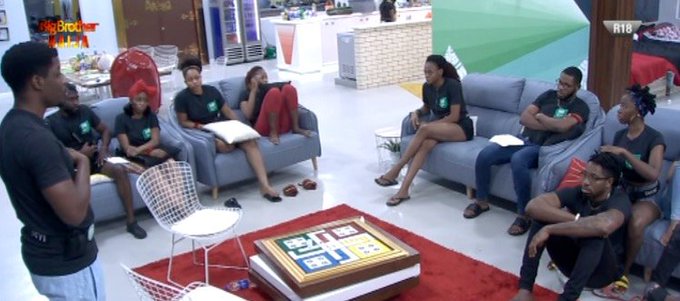 According to reports, while they were busy trying to figure out how to get the coronation task done, Venita had a clash with Khafi over the roles and was heard saying people can not compare her and Khafi because she is an award winning actress and Khafi is a Police Officer. She implied Khafi is poor compared to her and she is not in limelight like her she is. But speculations have it that they were having the clash because of Gedoni.
This year we have people with a superiority complex. Venita says people can not compare her and Khafi because she is an award winning actress and Khafi is nothing but a Police Officer🙆🏽‍♀️🙆🏽‍♀️😂😂😂 #BBNaija pic.twitter.com/rnn7xev3TZ

— phana_sK34 (@PhanaSk34) August 13, 2019
Fans didn't understand why Venita would berate Khafi by saying they shouldn't be compared simply because she was a police officer while others just theorised that Gedoni was the cause of the fight between the two ladies. Here are some comments gathered:
Let us pretend as if we don't know that #Khafi will perform better then #Venita in the #HeritageBankTask 😂🤣😂 #BBNaija pic.twitter.com/XYMBcLJoBJ

— abiolapharays (@abiolapharays) August 13, 2019
"As Venita is doing fine as an actress in the outside world, why is she dragging roles with Khafi. Is she afraid Khafi will outshine her."
Venita: Honey you have a salary, I get a pay cheque. Your 1st job is being a police & my daily bread comes from acting, I'm an actress. I'm not chasing lime light, I already have it.

haba why you here shouldn't you be shooting movies???? argg bitchy attitude.#BBNaija pic.twitter.com/pwPh3nVtl5

— LiamZeeland (@LiamZeeland) August 13, 2019
"I honestly didn't watch earlier today what transpired between Khafi and Venita but Venita should stay in her lane. She likes to intrude and put herself into other people situations."
I'm loving this Khafi's DS

Aunty Venita everything is not about you, you just came ma

And also just cos u did task with Gedoni does not mean u are now an item, so aunty shift

Stop intruding in people's ship #BBNaija pic.twitter.com/TPtrtFELXG

— Your fav Artgirl #bbnaija (@folawunmi_gal) August 13, 2019
"I'm not the biggest fan of Khafi but she's definitely speaking the truth about Venita. She came into the house with the game of putting everyone against each other. She started with Omashola and Frodd but those ones don japa. Now she's on to the next prey."
Venita don turn small dog 😂😂😂😂
Khafi is savage #BBNaija pic.twitter.com/ISbbKGlurE

— Imeh🌺 (@imehnova) August 13, 2019
Could their fight really be about Gedoni though?