Pepper Dem housemate, Seyi Awolowo has given his fans something to talk about after he was spotted sleeping with his bae in the HoH room.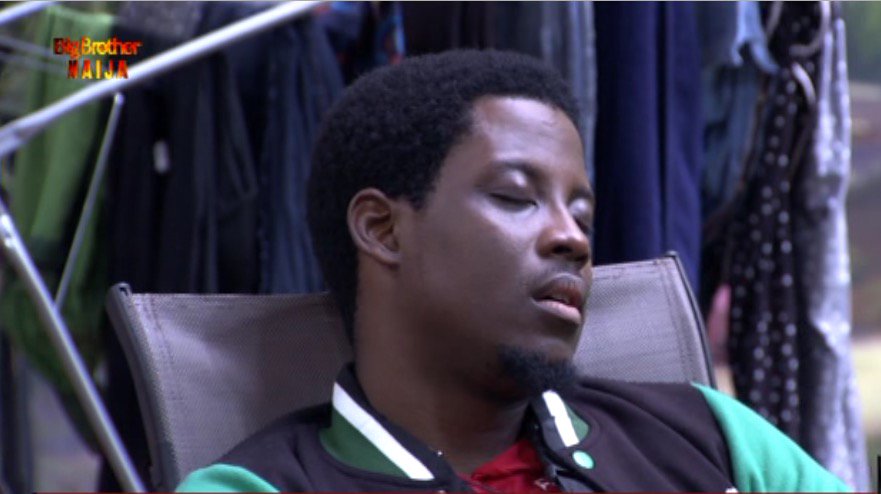 It was a really tiring day for the Big Brother Naija housemates as they got to crown the HoH, Seyi as the Tor Tiv per Biggie's instructions. The Coronation Ceremony and the Grand reception were sponsored by Heritage Bank and it was a spectacular one.
It's unofficial Tacha feeding Seyi…😂😂😂 Seyi and Tacha #BBNaija #TeamTacha #TeamSeyi pls pump votes for Tacha, seyi is full for life 💃🏽💃🏽💃🏽💃🏽💃🏽 pic.twitter.com/QKAQn5XYCS

— win!win!win! (@Extrakem) August 14, 2019
After all the love play with Tacha, who he has confessed to be growing feeling for during the ceremony, it seemed the Tor Tiv was missing his fiance so much that he was spotted sleeping with a photo of her on the bed and it was so cute!
#BBNaija 🤣 🤣 seyi is missing her finance… Sleeping close to her pic.. Awwwww.. Should we tell tansha? 😂 😂 pic.twitter.com/BjA3FzRzt6

— muksexy I'm mercified 🇿🇦🇿🇦🇿🇦🇿🇦 (@MaryKalu40) August 14, 2019
Some fans speculated that he was trying to reassure his fiance at home that he was still loyal to her while some just made fun of him. Here are some comments gathered:
Y'all really went to Seyi's page to push your SECHA nonsense under a tweet that was dedicated 2 Seyi's GF? Embarrassing ! You making it look like Tacha is desperate for that boy's D, when in reality she doesn't give a fuck. I'm embarrassed! #bbnaija pic.twitter.com/URTJBDPz8d

— Offi$hal (@DOFFISHAL) August 14, 2019
"Love Seyi and all oh. But who's he trying to convince with that picture?? Himself or is?? Iyawo mabinu jor."
"Ghen Ghen…. Poor Seyi. Today must have been overwhelming for him ooooo. The girlfriend pic is out. Uh-Oh!"
"Seyi….looking at your gf picture will not save you from those feelings ooi."
Seyi sleeping with his real babe tonight😂😂😂😂😂😂😂😂😂😂😂😂😂#BBNaija pic.twitter.com/VM43Sik9Mr

— Phindile🌸 (@queenphindie) August 14, 2019
"Seyi is sleeping with his babe picture beside him. You go hear am."
"This camera man will not make heaven. From Seyi with the girlfriends picture to Tacha on her bed."
"Did anybody see Seyi staring and sleeping with his Gfs picture?? Where are all the secha shippers oo?"
"Lol what did they put in the This coronation drink, everyone is horny, seyi even bring out picture. l feel for dem sha, some people who can't even stay one day without sex wil also come n type nonsense, i also understand frodd's need for companionship e no easy."
#BBNaija watching highlights So Seyi sleeps with his girlfriend's photo on the other side of the bed , wonder where he kept it when Tacha was around .
( laughs in Secha shipment)😂😂 pic.twitter.com/hve2EZypiK

— #99Tacharistics (@MayolaMoomy) August 14, 2019