Download 2Baba, Simi, Pasuma, Falz x Mr P x Slimcase & Others – "No Shishi 4 Bribe" mp3 now. Listen & Download Star-studded – "No Shishi 4 Bribe" as it is freshly packaged.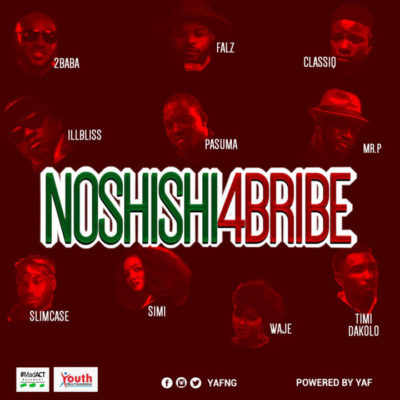 Music stars 2Baba, Simi, Pasuma, Falz, Timi Dakolo, Waje, Illbliss, Mr. P, Slimcase and Classiq join voices to condemn Vote Buying on "No shishi 4 Bribe" track. On the ID Cabasa produced track each artiste task Nigerians to resist the urge to sell their votes in the 2019 general elections.
"Voting is a civic right that can strengthen or kill development in Nigeria. It is your power to demand for good roads, jobs, healthcare, quality education and good leadership. When you sell your vote, you sell your voice as a Citizen." Music legend 2Baba on the reason why he lent his voice to the campaign.
Other contributors include highlife legend Sunny Neji who contributed writing plus additional vocals to the track and top music engineer Zeeno Foster who mixed and mastered the project.
The project was coordinated by entertainment mogul Efe Omorogbe for Now Muzik and top music engineer, Zeeno Foster
The campaign is powered by Youth Alive Foundation (YAF).
Watch and Enjoy the visuals below
NB: Please be aware that [Audio + Video] 2Baba, Simi, Pasuma, Falz x Mr P x Slimcase & Others – "No Shishi 4 Bribe" is hosted outside this particular website as we host NO file. In case of any copyearight claim and request for take down, kindly use our 'contact us' page to put a notice across.