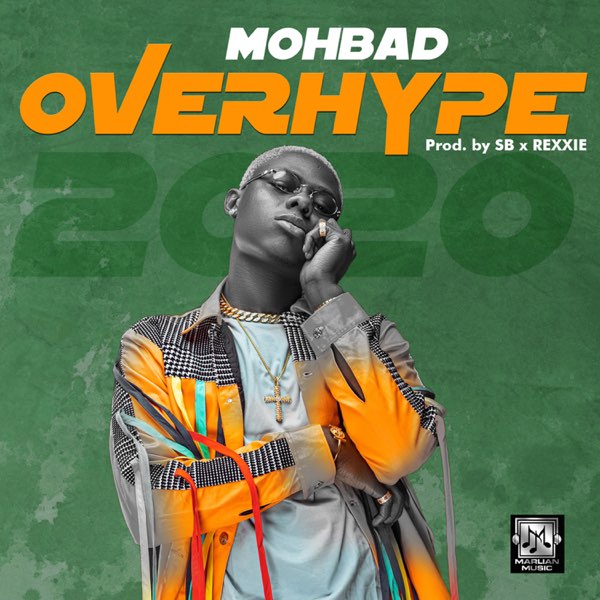 Mp3 download Mohbad Overhype mp3 download. Play & download Mohbad – "Overhype" (Prod. by SB, Rexxie)
Mohbad Overhype Preview
Marlian Music Starboy Mohbad returns with a brand new song titled "Overhype", produced by Rexxie and SB.
A great follow up from his previous hit 'Komajensun' Mohbad brings us hard-hitting street vibes with 'Overhype'. This new one is Storytelling the different aspects of the year 2020 from expectations, surprises, and disappointments that have come with the year.
Mohbad has been trending underground on the street since last year (2019) for his input on the viral song 'Balan Zia Gar' (Gan gan). He joined Naira Marley's new label (Marlian Record) late last year and he is has shown the industry why the street loves him with his music outputs. The debut single, 'Koma Jensun' was a major successful for the rising street pop act (singer & rapper). He gained more attention and Marlian fans which the vibe, wordplay and lamba he dropped on the record. Moh also joined force with his Boss Naira Marley on 'Didolobo' alongside label mate C Blvck months after his debut single.
Giving the street what it want and love the most; Slangs, Lamba and Catchy lyrics Mohbad comes through with 'Overhype'. On this he calls on Marlians to come and hear the latest update, shares that Ladies have been calling him a fine guy, Niggas regarding him as the baddest rising act and the mummies staying on his case. Mohbad says all these are hyping and he doesn't want because it's same Hyping that made 2020 what it is.
Quotable Lyrics
Awon ladies ni pe mo fine (Fine boy)
Awon Niggas ni moh bad (Olohun mo Bad)
Awon Mummies ko mi je (won komije won la'mi)
Awon daddy feranmi (won feranmi to'kon to'kon)
But e ma overhype mi, overhyping lo pa 2020
Tori mo rap, tori mo sing, won wa pariwo is plenty plenty (O'por 0)….
Listen and Enjoy below
Quick Mp3 Details
Music Title: Overhype
Music Artist: Mohbad
Zone: Nigerian
Music Genre: Afrobeats/Rap
Music Runtime: < 5 Minutes
Music Rating: 2.5 / 5.0
Music Likes: 55
Uploaded date: 2020-09-26 18:11:43
Listen to Mohbad Overhype
In the event that you wish to listen to or stream this music mp3 online or preview its brilliance and creativity, you can do so below.
Please listen to music mp3 below...
Mohbad Overhype Mp3 Download
Click the button below to download Mohbad Overhype (Prod. by SB, Rexxie) in mp3 download format and quality for free.
You can download Mohbad – "Overhype" (Prod. by SB, Rexxie) in different qualities by visiting above link / button.
But wait, would you love to listen to more music mp3 or download more of the latest and old songs online?
Go to MP3 Download section here, you can find thousands of Nigerian music, South African songs as well as Ghanian hit songs and albums of different genres including Qkom, Hip-hop, RnB, Amapiano, Highlife, etc.
Thanks.
Do well to check out some lovely Songs here.