Plenty of reactions have been trailing the new Album of pop star, Damini Ogulu, better known as Burna Boy - African Giant, which was released worldwide, early Friday.
The Album represents the Port Harcourt born's fourth studio Album, after previously releasing projects such as; L.I.F.E (2013), On a Spaceship (2015) and Outside (2018).
Lead singles "Gbona", "On the Low", "Dangote" and "Anybody" heralded the Album, which is released  under the label of Atlantic records.
The 19-track body of work features renowned artists both withing and outside the African continent; Manifest, Damian Marley, Angélique Kidjo among others.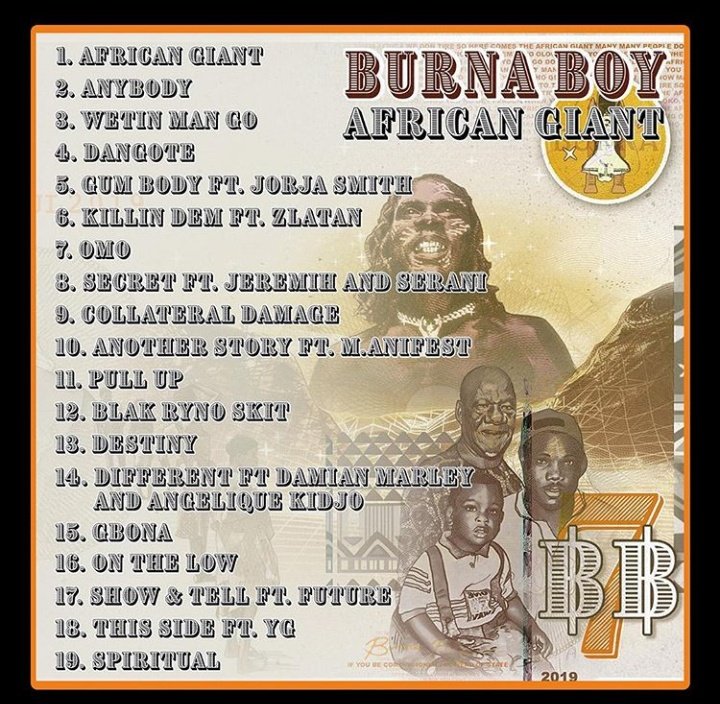 Upon its release, both local and foreign critics have so far given it positive reviews - with what appears like a general consensus that Burna is truly an African Giant.
Check out reactions below:
Thank you @burnaboy for #AfricanGiant. Classic.

Artiste of the year now, surely. pic.twitter.com/9MJMqxB76K

— Music guides me (@MusicGuide_) July 26, 2019
Stand up for the king 🙌 @burnaboy #AfricanGiant undisputed
Burna yaff finished me with this album
😳😳😳😳😳 pic.twitter.com/hSpIPsXFrB

— Khslifs™👑 (@KhslifsT) July 26, 2019
BURNA BOY is an ARFRICAN GIANT

What's ur Fav jam off the Album???#AFRICANGIANT @burnaboy pic.twitter.com/W918pa6lye

— BlakMan (@hassyblak) July 26, 2019
Dear @burnaboy thank you for AFRICAN GIANT. #AfricanGiant #africangiantthealbum 🔐🔐🚀🚀🚀💭💭💭

— MénzéL🌿✴ (@Realmenzel) July 26, 2019

 
Burna is finally fully in his element. This album is all his sides, conscious, playful, conscious, braggadocios. His ear for beats is also top notch. It's Afrobeat/beats, reggae and so Burna. He's a special guy, honestly. Sigh. #AfricanGiant

— T. Rankïn' ∆ 🏁 (@AfroVII) July 26, 2019
Oluwa Burna been bursting my farome this Friday morning. #AfricanGiant on repeat 🎶 pic.twitter.com/cmRsaPlnf3

— Sunny (@sunnypee) July 26, 2019
I'll repeat this again for this last time.
BURNA BOY IS NOBODY'S MATE.
BURNA BOY IS NOBODY'S MATE.
BURNA BOY IS NOBODY'S MATE.
BURNA BOY IS NOBODY'S MATE.
BURNA BOY IS NOBODY'S MATE.
BURNA BOY IS NOBODY'S MATE.
BURNA BOY IS NOBODY'S MATE.
Periodtt#AfricanGiant pic.twitter.com/0RGgfL9uBl

— Next Generation ♥️♥️♥️ (@Eyan_Latman) July 26, 2019
It's only burna boy that would teach government and make it sound interesting

— ROMAN (@e_okoisama) July 25, 2019
BURNA. BOY. that's it. that's the tweet.

— Reyna Biddy (@DearYouFromWe) July 26, 2019
What's your take on the Album? Drop your comments below.