Biggie has visited some housemates with judgement following the many house rules they broke and those affected were Tacha, Mercy, Joe and Ike.
It had been posted on the official Twitter page of the Big Brother show that Biggie had an important announcement to make by 10.30pm and the call by Biggie for them to gather at the lounge had caught them all the housemates by surprise.
It's the time of reckoning in Biggie's House. Sure the Housemates didn't see this coming. #BBNaija https://t.co/2x3LQKqRI4 pic.twitter.com/bkYoEDs1ro

— Big Brother Naija (@BBNaija) August 12, 2019
He gathered them to address the infringement of house rules and made them watch a clip to that regard. Mercy damaging the Oppo phone and Tacha fighting Mike, Frodd and Joe, Seyi and Ike's fight were shown to the housemates. He warned them all to always keep their anger in check, not to threaten each other.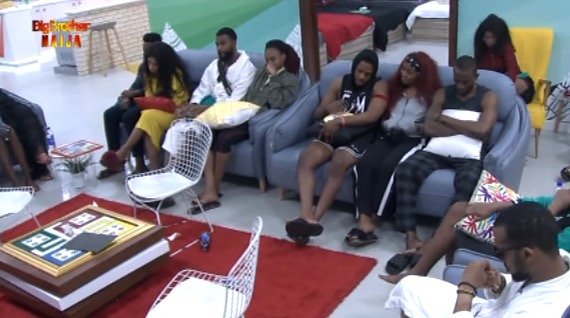 Mercy, Tacha and Joe were therefore given a warning for their acts of violence. Joe and Tacha were issued a strike each by Biggie. Ike also got himself a strike for attempt to attack Seyi.
Breaking News: Joe and Tacha have been issued a strike each. With two more strikes, they will be Evicted from the House. #BBNaija https://t.co/2x3LQKqRI4 pic.twitter.com/P3qNsiIZrt

— Big Brother Naija (@BBNaija) August 12, 2019
Breaking News: Ike has been issued the second strike. If he gets another one, he bids Biggie's House goodbye.#BBNaija https://t.co/2x3LQKqRI4 pic.twitter.com/YkCZGeuRYK

— Big Brother Naija (@BBNaija) August 12, 2019