Following his poor behaviour and Biggie's punishment on him, one of the Housemates of the Big Brother Naija "Pepper Dem" edition, Ike has spoken about how disappointed his parents would be in him for his ill manners.
Recall that on Monday night, Ike had received a shock from Big Brother, as he got his second strike in the reality show. It came as a result of getting into a fight with Seyi a few weeks ago, where he attempted to go physical with him. A second strike means that he will be disqualified from the game if he gets one more strike.
Breaking News: Ike has been issued the second strike. If he gets another one, he bids Biggie's House goodbye.#BBNaija https://t.co/2x3LQKqRI4 pic.twitter.com/YkCZGeuRYK

— Big Brother Naija (@BBNaija) August 12, 2019
Big Brother had gathered all the housemates to the sitting room and played videos of their acts of violence to them. Addressing the housemates, said that "it is okay to disagree with yourselves in the house, but fighting and violence is not allowed." He also told the housemates that "Judgment delayed is not judgement denied" reminding them that "Big Brother is always watching."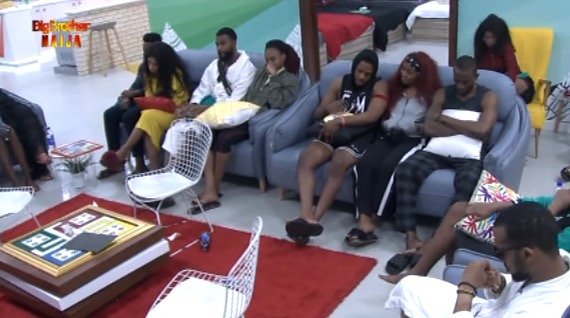 After the judgement was passed, Ike was spotted talking to Diane in the garden about everything that had happened and how he hasn't been able to control his anger. He talked about how his parents would be disappointed in him for his poor behaviour and promised to try to rein it in better to avoid getting a third one which could lead to him being disqualified.
Man like Ike @BBNaijaShow pic.twitter.com/3UqMPZBDIV

— taebarh (@taebarh) August 12, 2019
Let us hope he doesn't break another rule that could earn him the third strike and automatic disqualification.