Recently, Tacha and Seyi have been seen together enjoying each other's company. Their relationship have left lots of Nigerians wondering if these two are considering dating.
During the Saturday Night party with DJ Neptune, the two were seen having a nice time together. This continued after the party when Seyi decided to spend the night on the same bed with Tacha. This has made Nigerians take to twitter to share hilarious comments on what they think about the relationship.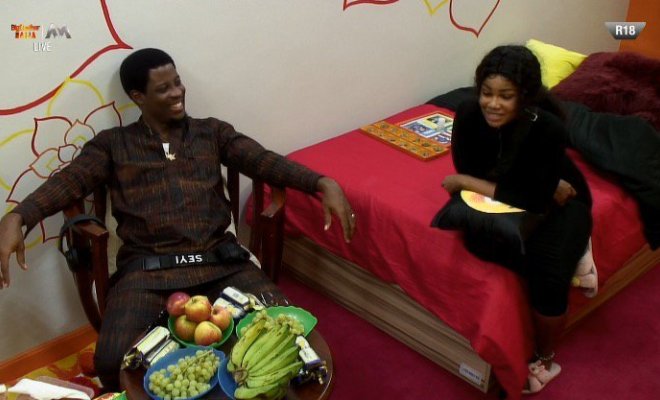 Recall that Tacha and Seyi were isolated for few days in a secret room after fake eviction by Big Brother. The housemates since their return to the house became closer and intimate, which stirred speculations that Seyi and Tacha may be in a relationship though not yet officially declared
Viewers of BBNaija on twitter think Tacha and Seyi can not have a successful relationship. Many gave reasons why it can't work while others are willing to sail the ship with them. See some reactions below:
ShayTach…..🤣🤣🤣🤣Their ship won't move from Shoreline oh. Seyi is looking for someone to warm his bed.

— Rina Ekharo (@doryperfect4u) August 10, 2019
Seyi has sugar mummy for outside while Tacha get sugar daddy… So therefore it can't sail….
Signed:: Concerned Nigerians

— Daniel Ig (@brightovation) August 10, 2019
Keep your nonsense ship to yourself! #BBNaija

— Queen of the South (@Platiniumeyez) August 10, 2019
Shouldnt sail abeg..Tacha doesnt need bad energy

— Ella j (@emmanuellaodia) August 10, 2019
No ship is sailing here! Their Ober sabi is Limiting their Real ness!

— #BBNaija (@OgaBossMan) August 10, 2019
No ship here ooo😒nt Compatible unless sayi is ready to die 😂😂concerned Nigeria

— switmelody (@switmelody1) August 10, 2019
Wch ship??? Two fake people 🙄🙄

— Maryanne💙💙 (@queen_Marihana) August 10, 2019
No shipping biggie, they are friends

— Sia Moadeh Kamanda (@SiaKamanda) August 10, 2019
Seyi is married, biggie do you want his wife to arrest tacha after the show

— Nwose David (@DavidNwose) August 10, 2019
I think the Ship will sail. It is happening naturally and the bond is very deep. The name will be SeyCha just like someone here rightly suggested. They look so cute together. #BBNaija

— ERIC THE GREAT (@BlueThroat101) August 10, 2019
They should not ship abeg, just remain best friend. Seyi is a heart breaker. Him name sake self break my heart during service but we are friends. don't come for me

— Silver Ng (@SilverNg7) August 10, 2019
This SHIP must SAILLLLLLL!!! #tayi

— Amina (@TheDoubleQueen) August 10, 2019
Yes O
The Ship must sail

TACHASE
SEYCHA

— KOLADE OLATUNJI (@IamTunegee) August 10, 2019
Are you in support of Seyi and Tacha dating?
Please share your thoughts in the comment section below