During pregnancy, ladies get compliments that they're "glowing." This refers to a phenomenon that's often visible on the face during pregnancy. This can be a very real part of pregnancy and Nollywood actress, Toyin Abraham has been spotted severally with this glow that has given credence to the pregnancy rumours that have been going around for a while now.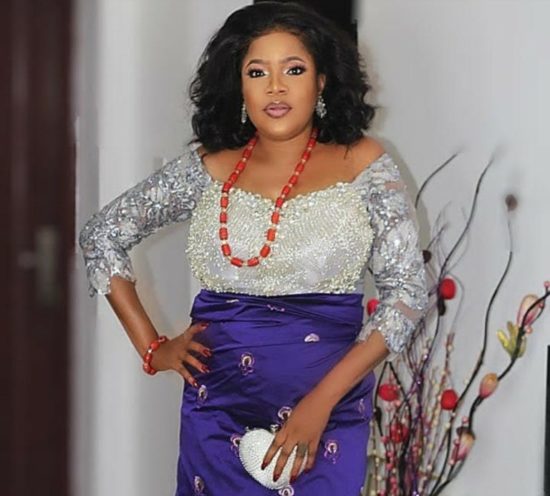 Pregnancy changes a lady's body in many ways. After all, she is growing a person inside of her. The surge in hormones can change the way your hair and skin look, giving you fuller lips, a visible glow, and thicker hair. For Toyin Abraham who her fans refer to as World best, she is looking more beautiful, has a fuller face, the glow is evident and she never takes full photos anymore.
The actress had taken to her Instagram page to share a new photo in which she looked so beautiful. Her swollen face and nose was noticed by her loyal fans and womb-watchers who congratulated and drew conclusions on her pregnancy from body features. From her caption, "Home sweet home", it was also deduced that she was back in the country after being out for a few weeks.
Fans of the Nollywood actress were so impressed with the photo as they confirmed her pregnancy glow. They said her nose had given her away. Here are some comments gathered:
"sucre1003: Safe delivery. Your nose shows it all. Love you."
"ceevon123: Preggie glow. Nose iyaff swell up."
"hardey0104: Like momma is pregnant. This nose says it all. Congrats world best."
"ye80kanny: Awwww she's expecting… I'm so happy I got one just like you a lot."
"adejoseph28: Wish you safe delivery sweetie."
"3ripple_adorable: That your nose Toyin. Don't worry I am waiting IJN name Amen."
"Since nah. You nor follow her on YouTube? If you do, you go know. She go soon born self. Our world best."
"beeyoukaywhy: God bless you and make you deliver safely ijn. We patiently waiting."
Let it be known that the actress hasn't come out to confirm or deny the pregnancy in a few months. If she really is pregnant, we wish her a safe delivery.