In her Instagram post, she wrote:
"Don't be afraid to lose any betrayer that calls herself "friend". This afternoon Tonto sent me a screenshot of Idris post about this case and because I posted it on my timeline she got angry maybe. We had always made video calls and when I called her this evening she refused to pick my call because she was with Idris.
I asked a friend of ours to call her from Abuja, and she quickly picked up the call not knowing that I was connected on the WhatsApp call already. Shame to you all. Bunch of betrayers 😢😢 I have tons of time tonight"
See the post below…
Before this exposure, the dental surgeon explained that Bobrisky had refused to return the N8m he borrowed from her to undergo a gender change surgery – Ify explained that Bobrisky stopped speaking to her after she started demanding her money.
I struggled not to do this but I couldn't stand people that conned me, dancing right in front of my face just to humiliate me more. A couple of months ago Bobrisky blocked me after threatening him that I would call on Nigerian bloggers to help me get my monies back from him/her. Bob and I got talking and he told me that he wouldn't mind getting the surgery done to improve his/her femininity to stop being ridiculed in the Nigerian community as "ugly gay".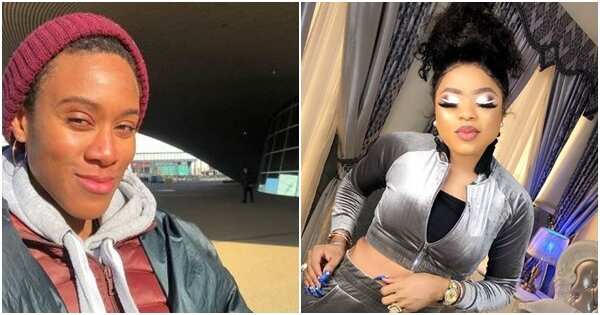 I felt sorry for him and told him that I can only loan him some money and that he must repay me before December 2018, he agreed and was over the moon. I got two transfers done for him, N2.5m and N5.5m. August 2018 he stopped calling me as usual and started replying my messages with "hmmmmm and Ok". October 2018 I reminded him that I would need the money for some charity work and he stopped speaking to me totally up till date. You wonder why people are so mean financially to others these days. It breaks my heart as the Nigerian justice system is zero and by the looks of things I would never have my money back🤷🏿‍♀️😢"
See a screenshot of her post below: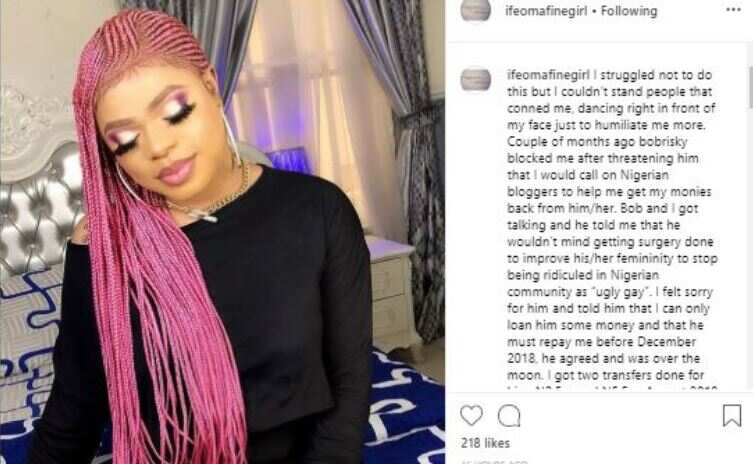 Share your thoughts in the comment section below