Nigerians continue to condemn the ongoing xenophobic attacks on several Nigerian and other Africans in South Africa.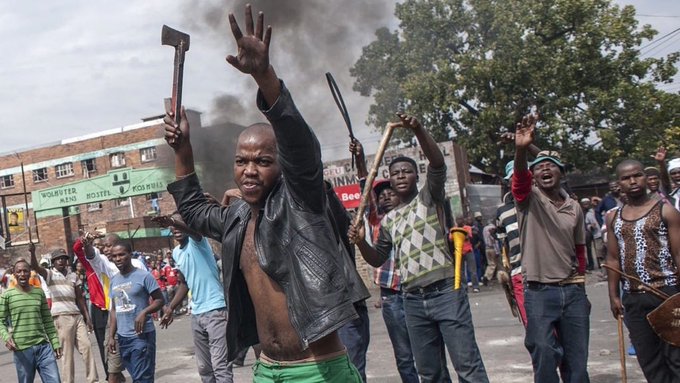 The new wave of attacks has seen the killing of several Nigerians and other Africans as well as looting and burning of shops, businesses and properties.
According to Mr Eazi, 'Grant us the wisdom to realise that we are one & the same!! Grant us the wisdom to fight the real Enemy which is Poverty, Hunger, Corruption, Oppression, Economic & Mental Slavery!! Open our eyes oh JAH!!!'
Banky W, 'the #Xenophobia attacks by some South Africans against Nigerians and other foreign Nationals are completely heartbreaking. Sad to see people that suffered through decades of apartheid, violence and hatred, now turning around to do the same/worse to others'.
Former Senator, Ben Brice also said, 'I am saddened by the stories and videos coming out of South Africa. I've also read reports that the Nigerian embassy in South Africa denied entry to Nigerians who visited to register their displeasure. These incidences are unfortunate. Our citizens deserve better'.
See more reactions below;
Grant us the wisdom to realise that we are one & the same!! Grant us the wisdom to fight the real Enemy which is Poverty, Hunger, Corruption, Oppression, Economic & Mental Slavery!! Open our eyes oh JAH!!!

— Don Eazi (@mreazi) September 2, 2019
The #Xenophobia attacks by some South Africans against Nigerians and other foreign Nationals are completely heartbreaking. Sad to see people that suffered through decades of apartheid, violence and hatred, now turning around to do the same/worse to others. (1)

— Banky Wellington (@BankyW) September 3, 2019
The people that South Africans look up to should PLEASE speak up and denounce #Xenophobia. The Government, business people, athletes, artists, media personalities, and even the average citizens have a responsibility to stand up for justice the way the world stood up for SA (2)

— Banky Wellington (@BankyW) September 3, 2019
#Xenophobia
In Kenya, there is an estate that we nicknamed 'Small Lagos'. It's full of Nigerians. A few sell drugs, sell fake things, but we don't kill them. They are arrested and deported back to Nigeria. Why kill a brother and still go sleep hungry in your house? South Africa pic.twitter.com/GMGmmRCBi5

— Local Kenyan Man, Author. (@author_sakwah) September 3, 2019
I am pleased that @GeoffreyOnyeama has taken a tough stand against #Xenophobia by #SouthAfrica, a country Nigeria fought hard to free from apartheid. President @MBuhari must ensure that the lives & businesses of Nigerians there are as safe as those of #SouthAfricans here. Enough! https://t.co/FUW4ZQLkNw

— Dr. Joe Abah (@DrJoeAbah) September 3, 2019
If an SA Official in charge of the Police feels this way about foreigners in his country, then you can rest assured Nigerians in South Africa are not safe.

Who will protect Nigerians when #Xenophobic South Africans come for them?

.@MBuhari Pls do something NOW!!! #Xenophobia pic.twitter.com/12YzP6kjLy

— Adebayo Bankole Akintunde (@AdeBanqie) September 3, 2019
By this morning, I expected the Nigerian High Commisioner to South Africa to have been recalled. It is silly telling us you had a chat with the SA President in Japan without a word from him since yesterday on the killings.

Is President Buhari truly a Nigerian? #Xenophobia

— Henry Shield (@henryshield) September 3, 2019
Nigerians are been killed in south Africa and their properties destroyed
Nigerians in SA please help us!!

Nigerians in NG Nigerian government please do something, we can't take this anymore

Nigerian Government:#Xenophobia pic.twitter.com/VA930bMPgc

— Swift Godwin (@SwiftGodwin) September 3, 2019
Just look at that elderly woman to the far right (yes, pun) of the picture. That's the person you will expect to talk sense into her children, but she's the one trying to launch the most lethal strike there. #Xenophobia na just excuse. They are a heartless people, people pf SA!😑 pic.twitter.com/tXgvJLZExb

— Meka Kema (@mekakema) September 3, 2019
The last human being to ever come out of South Africa was Nelson Mandela #Xenophobia pic.twitter.com/lNErcMnCiQ

— bra_kodjo (@DasebreDwamena) September 2, 2019
Cant disagree with #JuliusMalema on this, although I'll also add the current president of SA millionaire businessman Ramaphosa and other post apartheid black billionaires, including Zuma alongside the whites he mentioned. #Xenophobia #StopXenophobia pic.twitter.com/0N2r5dcKfA

— Wale Gates 🇳🇬🇬🇧 (@walegates) September 2, 2019
Dear South Africans,
What happened to Ubuntu? Why are you treating people so inhumanely, in ways your struggle icons, the likes of Nelson Mandela fought against?#Xenophobia

Photo courtesy: pic.twitter.com/iWq1gbXWpM

— Viral Content Kenya (@ViralContentKE) September 2, 2019
South Africans do you know Mandela didn't die for idiots?
Mandela didn't die for this nonsense to be happening
Black hating black is worst than racism
#Xenophobia pic.twitter.com/1tH0dEGUkr

— Man of valor🗣 (@Jaru0) September 2, 2019
South Africans do you know Mandela didn't die for idiots?
Mandela didn't die for this nonsense to be happening
Black hating black is worst than racism
#Xenophobia pic.twitter.com/1tH0dEGUkr

— Man of valor🗣 (@Jaru0) September 2, 2019
This is how a typical myopic South African thinks #FactsOnly pic.twitter.com/ciywCTv3pX

— Do2dtun Energy gAD (@iamDo2dtun) September 3, 2019